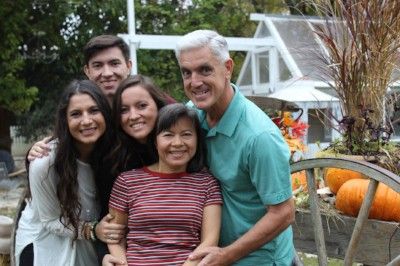 Keith Edward McDougal was born in Pasadena, Texas, U.S.A. on September 8, 1965.  He is the youngest of three children.  Keith's parents were divorced when he was one year old.  Despite the divorce, Keith never felt unloved by his parents, rather he remembers being very loved by both of them.  Keith grew up in a Southern Baptist church in Wylie, Texas and accepted Christ as his Savior and became a Christian when he was 13 during a summer youth camp.  A year prior to graduating from high school, Keith lost both his parents and was orphaned.  In 1986, he surrendered his life to full time ministry and attended college at East Texas Baptist University in Marshall, Texas. Keith graduated from LeTourneau University in 1996, with a BS in Business Management.  Shortly after graduation, Keith attended Southwestern Baptist Theological Seminary in Ft. Worth, Texas.
Nhan McDougal was born "Nhan Nguyen" on June 1, 1967 in Vietnam.  Because of the war, Nhan grew up in Cam Ranh Christian Orphanage until 1975, when the director of the orphanage decided it was time to take the children out of Vietnam.  With God's help through Southern Baptist missionaries, they arrived at Buckner Baptist Children's Home in Dallas, Texas.  Nhan realized her need for a personal relationship with Jesus Christ at 15 and became a Christian after attending a youth led revival in Dallas, Texas. After graduation from high school, she attended East Texas Baptist University, graduating in 1990 with a BA in Behavioral Science. 
While in college, Keith and Nhan heard God's call on their lives and committed to international missions by serving with the International Missions Board. They spent one year in South East Asia and seventeen years in the Philippines.  The first few years were spent serving as church planters where they saw God's amazing hand working in the villages where they served.  After 9/11, Keith and Nhan were moved from the Southern province in the Philippines to Manila to serve at Faith Academy, where Keith was the Chaplain and taught Bible while Nhan served in multiple capacities at the school.